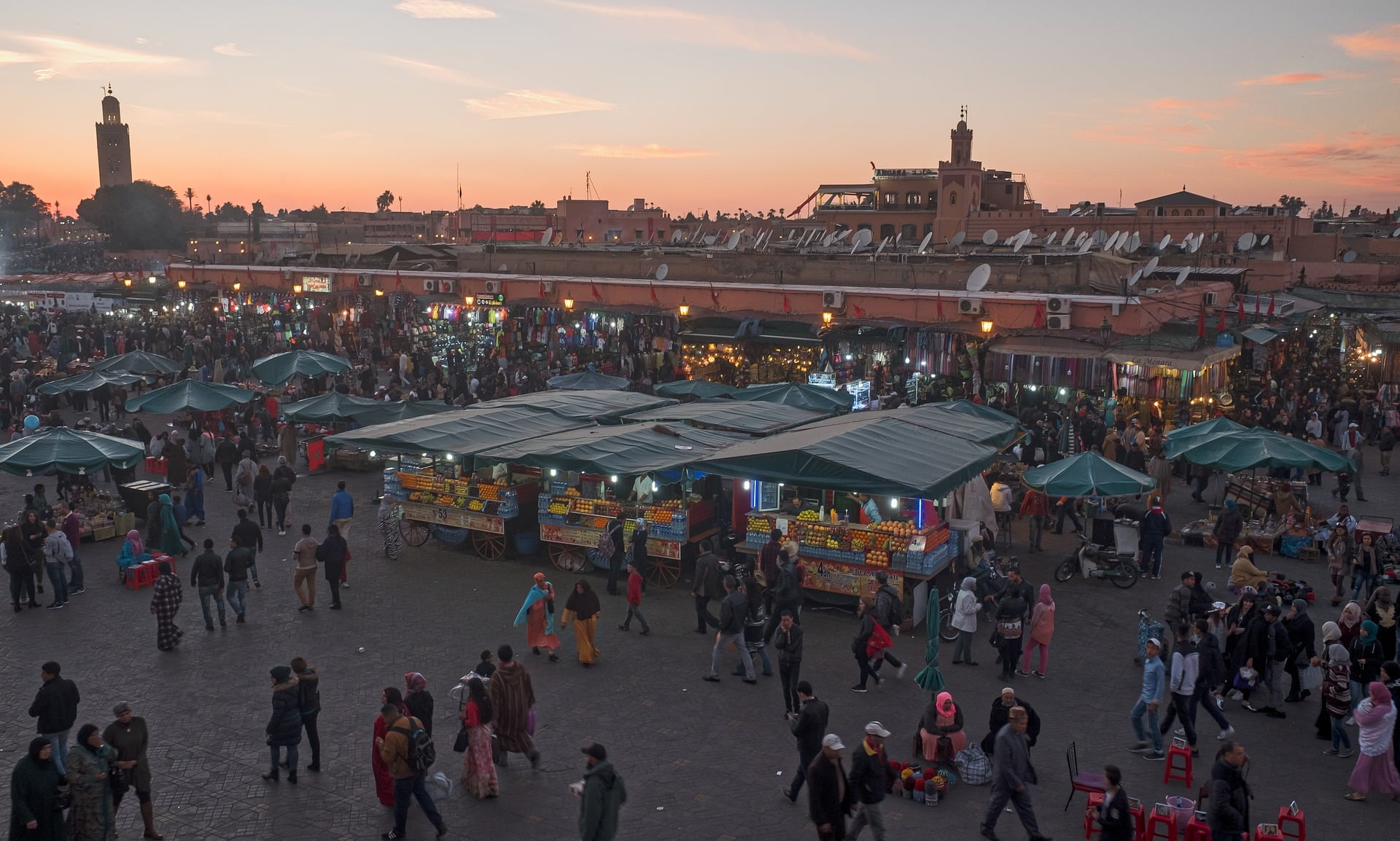 "Exploring the Magic of Marrakech: A Comprehensive Guide"
Marrakech is a city in Morocco that is steeped in history, culture, and tradition. Known as the "Red City" due to the color of its buildings, Marrakech is a popular destination for travelers seeking an exotic and vibrant experience. With its bustling medina, vibrant souks, stunning gardens, and rich history, Marrakech is a city that has something to offer everyone.
This post aims to provide a comprehensive guide for exploring Marrakech. Whether planning a short trip or a longer stay, this guide will help you make the most of your time in the city. From getting to Marrakech to exploring its must-see attractions to experiencing its food and drink scene, and shopping for souvenirs, we'll cover everything you need to know to have an unforgettable trip to Marrakech. So let's dive in and discover the magic of Marrakech!
Getting to Marrakech:
Getting to Marrakech is relatively easy, as the city is well-connected to the rest of the world. There are several options for getting to Marrakech, including by plane, train, and bus.
By Plane:
Marrakech has its own airport, the Marrakech-Menara Airport, which is located just a few kilometers from the city center. The airport is well-connected to major cities in Europe and other parts of the world, making it a popular entry point for international travelers.
By Train:
Marrakech is also connected to other parts of Morocco by train. The Marrakech Train Station is located in the newer part of the city, and is connected to major cities like Casablanca and Tangier. The train system in Morocco is reliable and affordable, making it a popular option for travelers on a budget.
By Bus:
Another option for getting to Marrakech is by bus. There are several bus companies that operate in Morocco, and most of them offer routes to and from Marrakech. The bus system in Morocco is also reliable and affordable, although the journey times can be longer than traveling by train.
Once you arrive in Marrakech, you can take a taxi or bus to get to your accommodations. The Marrakech-Menara Airport has a bus service that runs to the city center, and there are also several taxi companies that operate in the city. If you're staying in the medina, it's best to arrange for a taxi to take you as close to your accommodations as possible, as the narrow streets can be difficult to navigate on foot.
Navigating Marrakech's transportation system can be a bit overwhelming at first, but with a little patience and some basic knowledge of the city, it's relatively easy to get around. Taxis and buses are the most common forms of transportation, and there are also several rental car companies located in the city. If you're planning to explore the medina, it's best to do so on foot, as the streets are too narrow for cars or buses.
Accommodations in Marrakech:
Marrakech offers a wide range of accommodations to suit all budgets and preferences. From budget-friendly hostels to luxury riads, there is something for everyone in this vibrant city.
Types of Accommodations:
If you're on a budget, there are plenty of affordable options available, including hostels and guesthouses. These can be a great way to save money while still experiencing the local culture and hospitality. On the other end of the spectrum, Marrakech is home to some of the most luxurious hotels and riads in the world, offering world-class amenities and service.
Staying in the Medina vs. the Newer Parts of the City:
When it comes to choosing where to stay in Marrakech, there are two main options: the medina or the newer parts of the city. The medina is the old city, which is home to many of Marrakech's most famous landmarks and attractions. Staying in the medina can be a great way to immerse yourself in the local culture and history. However, the medina can be noisy and chaotic, especially at night, so it may not be the best option for light sleepers. On the other hand, the newer parts of the city offer a more modern and relaxed atmosphere, with plenty of restaurants and cafes to explore.
Recommendations:
For budget-friendly accommodations, some great options include Hostel Kif-Kif, Hostel Riad Marrakech Rouge, and Riad Layla Rouge. If you're looking for a more luxurious experience, some of the best hotels and riads in Marrakech include La Mamounia, Royal Mansour, and Riad Kheirredine. It's also worth considering a stay in a traditional riad, which is a type of Moroccan house with a central courtyard. Some great riads to check out include Riad Yasmine, Riad Les Yeux Bleus, and Riad Al Jazira.
Top Things to Do in Marrakech:
Marrakech is a city that offers endless opportunities for exploration and adventure. Whether you're interested in history, art, or culture, there is something for everyone in this vibrant and diverse city.
Must-See Attractions:
One of the top attractions in Marrakech is the medina, which is a UNESCO World Heritage site and one of the largest and most well-preserved medieval Islamic cities in the world. The medina is home to many historic landmarks, such as the Koutoubia Mosque, the Bahia Palace, and the Saadian Tombs. The souks, which are traditional markets that sell everything from spices to textiles to ceramics, are also a must-see attraction in Marrakech. Another popular destination is Jardin Majorelle, a beautiful garden designed by the French painter Jacques Majorelle and later restored by the fashion designer Yves Saint Laurent.
Off-the-Beaten-Path Sights:
While the must-see attractions in Marrakech are definitely worth visiting, there are also some lesser-known sights that are worth exploring. The Bahia Palace, for example, is a stunning 19th-century palace with beautiful gardens and ornate tilework. The Saadian Tombs are another hidden gem, featuring beautiful mausoleums and intricate carvings. For a unique and immersive experience, consider visiting the Tanneries in the medina, where you can see how leather is processed using traditional methods.
Cultural Experiences:
Marrakech is also a great destination for cultural experiences. One of the most popular experiences is visiting a hammam, which is a traditional Moroccan bathhouse where you can relax and unwind. Another great option is taking a cooking class, where you can learn how to prepare traditional Moroccan dishes such as tagine and couscous. If you're interested in music, consider attending a concert or performance at the beautiful Palais Bahia.
Overall, Marrakech is a city that offers something for everyone, whether you're interested in history, culture, or adventure. Make sure to plan your itinerary carefully to make the most of your time in this magical city.
Food and Drink in Marrakech:
Marrakech is a food lover's paradise, with a diverse array of cuisine that reflects the city's history and culture. From traditional Moroccan dishes to international cuisine, there is something for every palate in Marrakech.
Traditional Moroccan Dishes:
One of the must-try dishes in Marrakech is tagine, a slow-cooked stew that is typically made with meat, vegetables, and spices. Another popular dish is couscous, which is a staple in Moroccan cuisine and is typically served with vegetables and meat or fish. Other traditional dishes include harira, a hearty soup made with chickpeas and lentils, and b'stilla, a savory pastry filled with meat and almonds.
Restaurants and Cafes:
There are many great restaurants and cafes in Marrakech to choose from. For traditional Moroccan cuisine, head to Dar Moha or Al Fassia, both of which are known for their tagine and couscous dishes. For a more upscale dining experience, try La Mamounia, which has a beautiful outdoor terrace and a menu that blends Moroccan and French cuisine. If you're looking for a more casual meal, try the street food in Jemaa el-Fnaa square, which offers a variety of grilled meats, pastries, and fresh juices.
Local Drinks:
Mint tea, also known as "Moroccan whiskey," is a staple drink in Marrakech and can be found at almost every cafe or restaurant. Fresh-squeezed orange juice is also a popular drink in Marrakech, especially in the morning when vendors set up stalls in the medina to sell their wares. For something a little stronger, try a glass of Moroccan wine or a cocktail made with local spirits like arak or mahia.
Overall, Marrakech is a food and drink lover's paradise, with a diverse array of cuisine and drinks to explore. Make sure to try some of the traditional Moroccan dishes and local drinks to fully immerse yourself in the culinary culture of this vibrant city.
Shopping in Marrakech:
Shopping in Marrakech is a unique and exciting experience that should not be missed. The city is known for its vibrant souks, which are traditional markets where vendors sell everything from textiles and ceramics to spices and jewelry.
The Souks and Markets:
The souks in Marrakech are located in the medina, and they are divided into different sections based on the types of goods being sold. The most famous souk is the Souk Semmarine, which is a labyrinth of narrow alleys and stalls selling leather goods, textiles, and traditional Moroccan clothing. The spice market, located near the Rahba Kedima square, is a must-visit for anyone interested in Moroccan cuisine.
Bargaining and Negotiating Prices:
Bargaining is a way of life in Marrakech, and it is expected when shopping in the souks. Start by asking for a price and then counter with a lower offer. The key is to remain friendly and polite while negotiating. Remember that bargaining is a cultural experience and a way to engage with locals, so don't be afraid to strike up a conversation with vendors.
Best Souvenirs:
There are many great souvenirs to buy in Marrakech, from colorful ceramics to intricate textiles. Leather goods are also popular, especially leather bags and shoes. Spices are great souvenirs to bring home and can be found in the spice market in the medina. Other popular souvenirs include traditional Moroccan lanterns, jewelry, and hand-woven rugs.
Overall, shopping in Marrakech is a fun and unique experience that allows visitors to immerse themselves in the local culture. Don't be afraid to bargain and negotiate prices, and be sure to pick up some souvenirs to bring home as a reminder of your trip to this magical city.
Practical Tips for Exploring Marrakech:
Marrakech is a vibrant and exciting city to explore, but there are a few things to keep in mind to ensure a safe and enjoyable trip.
Best Time to Visit and What to Pack:
The best time to visit Marrakech is in the spring (March-May) or fall (September-November), when the weather is mild and pleasant. Summers in Marrakech can be scorching, so if you do visit during this time, be sure to pack lightweight and breathable clothing. Comfortable walking shoes are also a must, especially if you plan on exploring the medina.
Safety Concerns:
While Marrakech is generally a safe city to explore, it's always important to be aware of your surroundings and take precautions to avoid theft or scams. Keep an eye on your belongings at all times, especially in crowded areas. Avoid walking alone at night, and be cautious of strangers who approach you on the street.
Navigating the Medina:
The medina in Marrakech can be a bit overwhelming, with its maze-like streets and endless shops and stalls. Hiring a guide is a great way to navigate the medina and learn about the city's history and culture. If you do choose to explore on your own, be sure to carry a map or download an offline map on your phone. It's also a good idea to learn a few basic phrases in Arabic or French to help you communicate with locals.
By following these practical tips, you can enjoy your time in Marrakech to the fullest while staying safe and comfortable. Don't be afraid to explore the city's vibrant culture and unique attractions, and be sure to pack accordingly based on the time of year you plan to visit.
Marrakech is a city full of wonder and excitement, with something to offer every traveler. From the vibrant markets and stunning architecture of the medina to the delicious food and cultural experiences, there is no shortage of things to see and do in Marrakech.
Whether you're a first-time visitor or a seasoned traveler, this comprehensive guide has provided you with everything you need to know to plan an unforgettable trip to Marrakech. We've covered everything from transportation and accommodations to top attractions, food and drink, shopping, and practical tips for exploring the city safely.
So what are you waiting for? Pack your bags and head to Marrakech to experience its magic for yourself. Immerse yourself in the city's rich culture, try new foods, and explore the winding streets of the medina. With so much to see and do, you're sure to fall in love with this enchanting city.