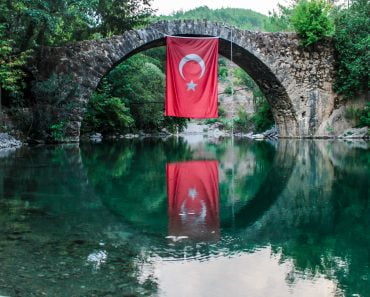 The most beautiful areas in Turkey
Turkey ranks Turkey as a Middle Eastern country and is a gateway between Asia and Europe and the link between the two continents, with an eastern area located in Asia and a west that reaches the continent of Europe.
Turkey has a diverse nature, with its topography varying to include plains, plateaus and mountains, and its cities have many types of entertainment and pleasure that can be found at sea and on land, as most of its cities and provinces have tourist attractions, a country with many details and variations, so it is a great choice for tourists as it gives them the possibility to choose their events based on their inclinations and tastes.
The most beautiful areas in Turkey
Istanbul is known for a number of names it has gained throughout history, named after Byzantium, Astana, Constantinople, and Islambol, and Istanbul is turkey's financial, economic, and cultural capital.
Istanbul is a city with a long history and has been on the UNESCO World Heritage Site since 1985, and is the only large city in the world spanning two continents, Asia and Europe, and its most important features include:
Bosphorus Bridge:
It is one of the bridges connecting Europe to Asia, approximately 15 kilometres long, and ranked 14th in length on the list of outstanding bridges in the world.
Sultan Ahmet Mosque:
It is also called the Blue Mosque, and the reason for its name is that its interior lining is dominated by blue, and it contains the tomb of Sultan Ahmed I, which he built between 1609 and 1616, and is now a masterpiece of Turkish engineering artifacts.
Hagia Sophia:
Hagia Sophia is one of the most important tourist sites in the Turkish Republic and even one of the most important tourist sites in the world, as it is a masterpiece of architectural architecture, built in primitive to be an Orthodox patriarchate cathedral, and then transformed into a mosque after it was reached by the Islamic Conquest.
Taksim Square:
Vital and vibrant, this square is istanbul's tourist hub, with many of Istanbul's daily facilities of restaurants, cafes, hotels, markets and lounges, where no one can visit Istanbul but pass through it. This name has been given to istanbul's old water distribution plant, which has been out of operation for nearly a century.
The Palace of the High Door:
This landmark is one of Istanbul's most prominent landmarks and one of the most visited by tourists, built by Sultan Muhammad al-Fatih, and is now a magnificent museum with many important suites, such as the arms wing, the jewelry pavilion and the Happiness Rag Pavilion, which displays some historical and sacred pieces, such as the sword of the Prophet Muhammad, some of his personal belongings and monuments, and some traces of the adult caliphs. The palace is very surprising and wonderful as the tourist can spend several hours without boredom.
In addition, there are many special features, including the Tehmos III Obelisk, Yildiz Palace, the Sultans Palace, and other markets and landmarks.
Antalya City:
Antalya is one of the most important tourist areas in Turkey and the world, it is one of the most beloved destinations visited by millions of people annually, where there is the old city with a clear presence of history, old mosques with beautiful views of the sea, and there are also cafés overlooking the harbour, where tourists can spend a special time, as well as many shops selling handicrafts.
It is famous for its busy beaches in the summer, although some are not suitable for swimming, but people enjoy the view of the sun and the surrounding mountains, such as the rocky beach of Konyalti.
It has ancient Roman monuments, the most famous of which is the Hadrian Gate, where it dates back to 130 AD, named after the Roman Emperor Hadrian to commemorate his visit to Antalya,
the gate consists of three arches, and is still used as a gateway leading to ancient Antalya and Hisapchi Street along with unique historical and archaeological significance.
Bursa City:
Bursa ranks fourth among Turkish cities in terms of population, and is the capital of Bursa province, and is one of the major tourist and industrial cities in the Turkish Republic, located between istanbul and Ankara, and is famous for its vast and fertile green plains, diverse forests and many parks and parks, and for that it gained the title of "Green Stock Exchange".
Among the most important landmarks of the Stock Exchange are:
The Great Mosque:
The grand mosque in Bursa, a masterpiece of Ottoman architecture, contains many ancient Arabic inscriptions on its interior walls and holds 20 domes spread over four lines above its roof.
Koza Han:
It is a place for silk trading, with many shops selling different types of clothing and silk fabrics.
Museum of Turkish Islamic Arts:
This museum displays Islamic relics from the historical period between the 12th and 19th centuries, such as coins, medals, shields and others.
Bodrum City:
Bodrum has beautiful houses with charming views of the magnificent Turquoise Sea, located in the southwest of Turkey, and perhaps its most important monuments include:
St. Peter's Castle:
The castle is one of the most important archaeological areas in the Bodrum region, and its towers and walls with charming views of the harbour, as well as an internal museum.
Bodrum Museum of Aquatic Archaeology:
One of the world's most beautiful and famous museums specializing in the display of ancient shipwrecks and marine monuments, it contains the wreckage of three ancient ships, located in Bodrum Castle, built in the 15th century AD.
Bitez Beach is the city's most famous beach, with colourful pillows and sofas placed in it instead of chairs, so visitors can feel more comfortable and relaxed.
Black Sea Region:
It is a group of coastal cities overlooking the Black Sea, where there is an increasing demand for tourists, Arab travelers and others year after year, including:
Amasia:
The city of Amasia contains tombs of kings carved in rocky mountains of Greek times and white Ottoman houses stacked by the river, which characterizes this city and makes it an impressive masterpiece, arguably an outdoor museum.
Trabzon:
Trabzon is the main city in northeastern Turkey, with places and areas that draw tourists' attention to its beauty and privacy, the most important of which are the Hagia Sophia Mosque, Lake Ozingul and the famous Lake Der Simula on the edge of the rocky mountain.
Samson:
Samson has many important places, such as mosques, popular markets, museums, etc., has the largest views of the Black Sea coast compared to other cities, as well as the largest port on the Black Sea.